Volunteer Placement Services
We receive volunteers from around the world.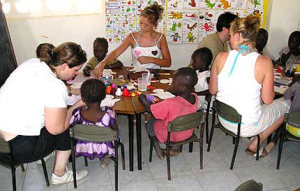 We receive volunteers from around the world for Cultural Exchange prgrams, Volunteer Placements for  short term (2weeks)  and long term (one year) depending on what area they are placed in.
We have had the privilege of placing volunteers from New Zealand, Switzerland, Sweden, Australia, Canada, Europe, UK, USA and Africa.
We also send our volunteers abroad where they volunteer and help in needy communities like Sharing the word of God, teaching English, helping elderly,children homes, assist in projects, medical clinics,  or cultural exchange programs.
These volunteers are hosted in homes for various periods depending on volunteers request and terms of agreement between them and our organisation.
The volunteers are placed in children homes, community projects and schools especially teaching English in rural areas of maasailand and other counties in our country according to their place of interest.
VOLUNTEERS NEEDED!!!
We need volunteers in our organisation and volunteers to go abroad.
Impact another's life positively
Would you like to travel overseas as a volunteer? Become a change envoy…