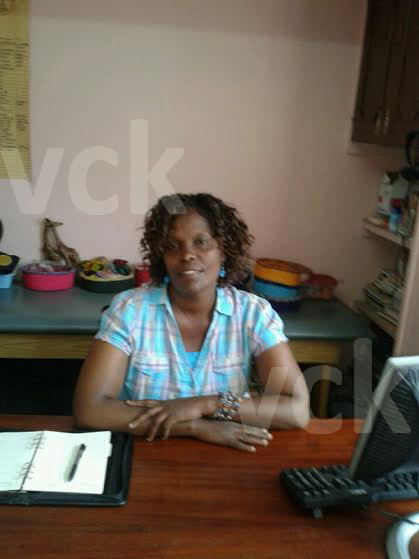 Mrs. Jane Njoroge
Founder, VCK
The organization was founded in year 2003 as a community based organization to help in eradication of poverty in communities by enhancing women and youth empowerment, provide basic education, orphans and vulnerable children rehabilitation strategies, pen-pals program, volunteers placement and provide clean water.
Currently, we have an informal school (a care centre) in a remote area of Maasai land.  We have only one temporary class with over 50 children. We need to build permanent classrooms and also expand the facilities to increase the number of children at the school. There is need for a feeding program too.
VCK was founded as a result of the founder witnessing widespread apathy over less fortunate and orphaned children in the community. Many lacked basic education, food and a roof over their heads, there was also a general feel of hopelessness. There also are vulnerable communities living in the slums living with Aids and with no access to ARV's.
Many of the youth in these situations, end up engaging in drugs. VCK has since started a counseling program to address these issues. After which they are engaged in empowerment programs to help them live more positively.
The organization was founded by Jane Betty. It is a charitable, community based organization (CBO) duly registered under the Ministry of Culture ,Gender, Sports and Social Services.
People involved
Number of volunteers : 50 countrywide
Organizational membership : over 50 volunteers have so far partnered with us on different projects, and we continue to appeal for more organizations and volunteers to partner with us.
Mission
To offer holistic support to vulnerable children, orphans, women and youth. To be a platform of opportunities and sustainable livelihoods to those affected and infected by Hiv and behavioral change to street children. To reach the unreached and provide basic education. Provide medical clinics to communities that are marginalized
Principal objectives or purpose of the organization :
Protection of fundamental rights of children, widows, widowers and the less fortunate communities.
Poor and needy etc.
Provide basic education to the unreached.
Put mechanisms for periodic reviewing of women/youth empowerment strategies.
Cater for abused cases e.g. poor living conditions, poor nutrition, sexual abuse, child survival, child development, child education, orphan widows and widowers. Support.
Support youth projects e.g. bee keeping, barbershops, crafts sewing projects, goat Projects as income generating both in rural and urban areas.support.
Support youth projects e.g bee keeping, barbershops, crafts sewing projects, goat Projects as income generating both in rural and urban areas.
Present policies and priorities

Provide basic education to the needy areas on Maasailand
Women and youth empowerment
Making hand crafts and jewel as  a means of improving  livelihoods
Supporting grass root income generating projects
Health,sanitation and hygiene through environmental clean up activities
Organizing free medical camps in the slums and other rural areas
Holistic support to needy children, windows and windowers
Mentorship and medical mission